Polycystic Ovarian Syndrome
– PCOS
PCOS causes hormonal imbalance in females leading to abnormal menstrual periods and infertility. It also leads to insulin resistance, and more than half of the women over the age of 40 develop Type 2 Diabetes Mellitus.
Causes
The root cause of PCOS is still undiscovered, but the following factors may lead to PCOS: 
Low-grade inflammation

Insulin resistance 

Overweight and obesity

Genetics

Hormone imbalance

Raised levels of testosterone

Raised levels of luteinizing hormone (L.H.)

Low levels of sex hormone-binding globulin (SHBG)

Raised levels of prolactin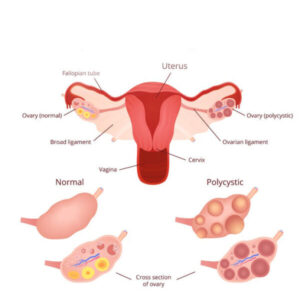 Symptoms
Apart from cysts on the ovaries, symptoms of PCOS include:
Irregular menses

Sleep apnea

High-stress levels

High blood pressure

Excess androgen levels

Acne, oily skin, and dandruff

Excessive facial and body hair growth, known as hirsutism

Female pattern balding

Skin tags

Infertility 

High cholesterol and triglycerides

Acanthosis nigricans, or dark patches of skin

Fatigue 

Insulin resistance

Type 2 diabetes

Pelvic pain

Depression and anxiety

Weight management difficulties, including weight gain or difficulty losing weight

Decreased libido
Diagnosis
To diagnose PCOS, the following tests are performed:
Physical test (Pelvic exam)

Ultrasound (Transvaginal ultrasound)

Blood tests
Treatment
Treatments for PCOS depend on many factors, including your age, health, and complications. It may also depend on whether you want to get pregnant in the future or not.
PCOS affected women who are planning to get pregnant in the future can include the following in their treatment plan:
Healthy diet

More physical activity

Medications that facilitate ovulation

Clomiphene

Letrozole (Femara)

Metformin

Gonadotropins
While women who are not planning to get pregnant can include the following:
Diabetes medication if needed

Birth control pills

Progestin therapy

Medication to treat other symptoms

Spironolactone 

Eflornithine

Statins

Orlistat

Healthy diet

More physical activity
Prevention
There are no proven ways to prevent PCOS, but you can take the following steps to reduce its symptoms:
Eat healthy and nutritious food

Exercise daily

Manage your weight

Take medications for the symptoms
When You Should Consult The Doctor
If you face any of the following risk factors, you should consult your doctor for a proper check-up. 
Missed or irregular periods

Excessive hair loss

Abnormal hair growth on the face and other parts of the body

Failing to get pregnant even after trying for more than 12 months

Symptoms of diabetes (such as excessive thirst or hunger)

Unexpected weight gain

Acne
Looking For A Polycystic Ovary Syndrome Specialist Houston, Tx?
If you are facing PCOS problems and want to get yourself checked, then you are at the right place.
Houston Endocrine center has the best Doctors for PCOS treatment. Having polycystic ovarian symptoms or syndrome is a major issue you must resolve as soon as possible. The PCOS specialists working in our medical center are the best at PCOS treatment. Request an appointment with our specialist doctors to resolve your problems.